One page Conference is a free WordPress theme for events, conferences, conclaves, and meetups. This theme is based on the Event and Conference Management WordPress plugin, WPEventPartners. If you are the organizer of the conference and looking to build a one-page conference website then this is the best theme for you.
Free
Unlimited Site License
Footer Copyright / Whitelabel

"LIVE NOW" notification in Schedule
Premium
Unlimited Site License
Footer Copyright / Whitelabel

"LIVE NOW" notification in Schedule

Multiple Schedule Layouts
Schedule Pro, as the name suggests, is pro at your service for showing your event schedule. It is the premium extension of WPEventPartners to display your multiday and multitrack events.
From making your visitors easy to use to including everything your visitor might need, this plugin cover all in terms of user experience. With this plugin, your visitors will find much easier to see the event schedule ina day-wise format.
We are dedicated to solving your problem nevertheless the complications. Our team is working 24/7 to make sure you don't face any difficulties trying to use our products.
Features of WPEventPartners
We help you build an Event and Conference website. Our plugin will cope with all your different needy elements required on your WordPress website. The powerful customization we offer will help you build an interactive feature-rich website. The plugin is built such that it would help you manage sessions, speakers, schedules for your conference.
This is the hero section that is displayed as the main banner of the website. This section can be used to place attractive banners image along with your desire color as an overlay. You can display the event name, details, date, time, and venue in the main hero banner. Additionally, you can show/hide each section as per your requirement and the nature of your event/conference.​
Every event website is a major driving factor to bring participants to the event. The countdown on your website can be an intrusive way to inform visitors regarding when the event is happening.
Every event website is in need of a robust corner where full agendas and schedules can be displayed. Looking at this necessity, we provide that feature in the most user-friendly way possible. One can easily design an agenda and program schedule from the dashboard itself by using our plugin, WPEventPartners. This comes along with our theme.
Multi-day & Multi-track Schedule
The multi-day schedule is the premium feature available only in the Pro version of the theme. This section helps to showcase the multiday and multitrack events in a user-friendly design. With this premium feature, your visitors will find it much easier to see the event schedule in a day-wise format.
You can also display the session details in the program schedule such as Session room, Session speaker, and their details. Be it a virtual or live event, you can display all the information required.
Attendees will see a "Live Now" button on the top right corner of the session which helps them know which session is going on at the moment. If you are doing virtual or hybrid events, showing the Live Now button the schedule helps a lot. This feature is available if you are using the premium version of our theme.
You might be organizing your event at different locations and your visitor might be checking your website from different locations. With this premium feature, you will be giving the option to your visitors to see the program schedule as per their convenient timezone.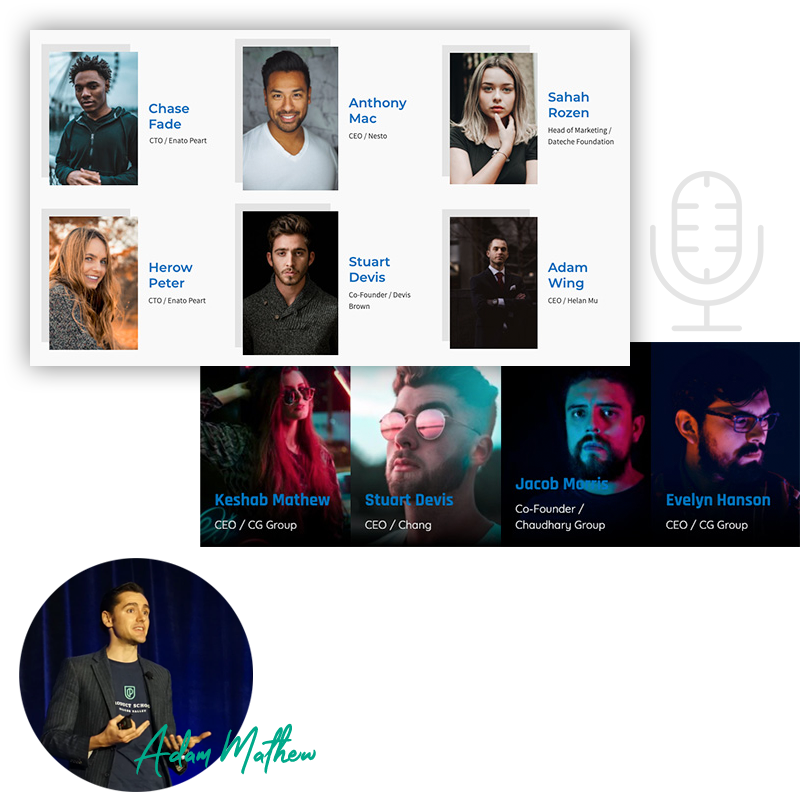 Speakers profile, being one of the main focus of your event, we provide tremendous amount of resources ranging from their detailed information to the details of the sessions. Alongside these features, you can add links to their respective social media pages and website.
With our plugin, you will be able to add sponsors' profiles as well. You will also be able to categorize the sponsors as per your wish which ultimately helps your website to look neater.
The information counter is designed to share the event information in the nutshell. This section can be used to show how many people have registered, how many speakers and attendings. Just type the number and write information you wish to show, simple!
Event Ticketing or Registration can now be done easily using our theme. You can now use our theme and integration this is easy use Woocommerce based ticketing plugin for your Events and Conferences. You can start selling event tickets from the website itself.
As you can sell event tickets from your website, you can also display a pricing table of your tickets. This section can be used to display different slabs of your tickets.
Everyone attending an event should not be bothered about the ways to get to that particular venue. Considering this, we have focused on providing a great way to know about the information on the venue with respective photos as a reference.
You will also be able to add a map to the venue. You can embed any maps you wish to in the section.
Organizers are the heroes of all events. We have considered building our theme in such a way that you can display organizers as well as volunteers' profiles. Displaying the organizer's profile builds trust amongst the attendees and sponsors.
Your attendees like reading what your past attendees have to say about your event. Our theme includes a testimonial section which you can displayed on the homepage as well as other pages.
You will get two different Call to Action(CTA) sections on the homepage. These two CTA sections will help you to engage your visitors and turn them into your attendees. You can embed a youtube video, upload your own video or images and write any sales copy you want.
There are multiple sections on the homepage that you can sort, reorder or hide as per your need. You can also show and hide every individual section as per your need. Oh yes! hiding a section will also hide the code which will give a good impression on the page speed.
We have built an easy-to-use plugin to import sample data for you. With this plugin, you will be able to import the exact website that you can see in our demo. Once you import, you can change, edit and customize on your own.
There are multiple shortcodes available for WP Event Partners. You can display speakers' profiles, schedule sponsors information not just on the homepage but also on inside pages as you wish by using our shortcodes.